Curious About Quinoa? Alter Eco Cooking Show Takes the Mystery Out of the Making with Simple, Delicious Seasonal Recipes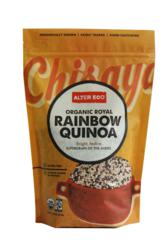 San Francisco, CA (PRWEB) August 15, 2012
Mainstream consumers are curious about quinoa and a bit confused about how its prepared. After all, many have only recently learned how to pronounce the word (KEEN-wah) for what is fast becoming known as one of the worlds healthiest and, as it turns out, simple-to-prepare foods.
Alter Eco In-Aisle Cooking Show is Optimized for iPhone Viewing
Alter Eco, which offers three varieties of organic Royal Quinoa from the Bolivian Andes — Pearl, Red and Rainbow — takes the mystery out of preparing the delicious, ancient super grain with its light and breezy Alter Eco In-Aisle Cooking Show. The show, optimized for iPhone viewing at http://www.alterecocooks.com, demonstrates quinoas versatility and great taste through quick, 1? to 2-minute how-to demonstrations for making delicious, seasonal new quinoa recipes. Recipes can also be viewed online at http://www.alterecofoods.com.
The Alter Eco In-Aisle Cooking Show is designed for consumers on the go, says Mathieu Senard, co-founder and Chief Executive Officer of Alter Eco. The recipe demonstrations can be viewed easily and quickly on an iPhone as consumers shop the aisles of their favorite grocery stores, he adds.
Alter Eco also uses in-store QR (quick response) codes to give consumers immediate access to the Alter Eco In-Aisle Cooking Show by simply scanning the code with their smart phones.
Alter Eco is the first company to use QR code technology in such an innovative way, says Senard. Consumers should look for QR codes in stores where Alter Eco quinoa is sold in bulk.
The Alter Eco In-Aisle Cooking Show adds delicious new recipes each season and currently features Quinoa Summer Salad, Mexican Jambalaya and Rainbow Quinoa Root Roast. More than 30 additional print quinoa recipes can be found on the Alter Eco recipe page.
Preparation is a Snap; Nutritional Benefits are Strikingly Rich
Preparing quinoa is a snap; simply rinse in cold water, place in water or stock, bring to a boil and simmer for about 20 minutes.
Quinoa is not only versatile and delicious; its nutritional benefits are strikingly rich. Its one of the only complete plant-based proteins, containing an excellent balance of all of the essential amino acids. Quinoa is rich in manganese, iron, potassium, B vitamins and powerful antioxidants (which help reduce inflammation); is a good source of magnesium (commonly deficient in the American diet) and is a complete protein (unlike most grains). Additionally, quinoa is a good source of both heart healthy mono-unsaturated and polyunsaturated fats.
Quinoa is becoming an increasingly popular food choice for those looking to incorporate "superfoods" into their everyday diets, says Diet Doctor Melina Jampolis, MD, board-certified physician nutrition specialist and author of The Calendar Diet: A Month-by-Month Guide to Losing Weight While Living Your Life. As a whole grain with an exceptional anti-oxidant-rich profile, quinoa can help boost cardiovascular and gastro-intestinal health and may reduce the risk of certain types of cancer, Dr. Melina adds.
Gluten-free, wheat-free and nutrient-packed, quinoa is ideal for everyone and can be eaten guiltlessly with the knowledge that its cholesterol and trans fat-free.
Alter Ecos organic Pearl, Red and Rainbow quinoas are available online, at natural foods stores and at specialty retailers throughout the U.S. and Canada in one-pound bags, and in bulk in select stores. Suggested retail prices for one-pound bags are: Pearl ($ 4.99), Red ($ 8.75) and Rainbow ($ 6.59). Suggested retail prices for bulk, per pound, are: Pearl ($ 3.99), Red ($ 7.49) and Rainbow ($ 5.89).
About Alter Eco
Alter Eco is a values-based brand of specialty foods that uses delicious, exotic, healthy and sustainable ingredients from around the world, while directly benefiting farming communities in the Global South. Working directly with farmers, Alter Eco offers foods that capture distinct attributes of various world regions including the ancient super grain Royal Quinoa from the Bolivian Andes, heirloom Jasmine Rice from Northern and Eastern Thailand, Latin American-grown and Swiss-made dark chocolate bars, and unrefined ground Mascobado cane sugar from the Philippines. Visit http://www.alterecofoods.com.
# # #